Under Sea Shellfish is a rock/surf rock group, whom made their first recording of SpongeBob songs on their first compilation album, SpongeBob SquarePants Hits. They are basically a remake of The Beach Boys.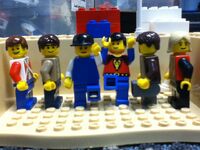 Discography
[
]
Studio Albums
[
]
2012- The Under Sea Shellfish
2013- There's A Beach Out Here!
2014- Beach House
Compilation Albums
[
]
2013- Under Sea Shellfish Christmas
2014- SpongeBob SquarePants Hits
Members
[
]
Current Members
[
]
Past Members
[
]