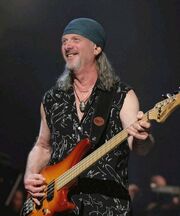 Randy Mason was born May 21, 1981 in Ponca City, Oklahoma. He was the bass player for The New Romantic Devils from 2000-2004. He was friends with Archie Monroe as a kid and teenager. He Currently resides in Louisiana and owns several night clubs. He performed with The New Romantic Devils in December 2021 at two of their last shows in Baton Rouge on two numbers.
Randy was born in Oklahoma City, Oklahoma. At age 13, he was in his first band Sugar Addict with drummer Keith Hudson and Archie Monroe. He later played in Freeze Frame with Archie, Keith, and Tony Rich. He later started a band with Archie, Keith and Peyton Monroe named 4pastmidnight. This was the band that eventually became The New Romantic Devils.
In fall of 2022 he has rejoined The New Romantic Devils to play bass on their current Journey to the 80's Tour.
Personal life
[
]
Family
[
]
Randy is married to Jill Young a model/actress since 2000. They have two children together a son Kale and a daughter Kora.
Discography
[
]
The New Romantic Devils