Double Trouble is the 6th studio album from the alternative pop rock band The New Romantic Devils. It was recorded in July and August of 2021 at Red ONE Studios and Jamaker Mark Studios in Halston Texas.  The album is a concept album loosely based on bad relationships from the music business to management to personal relationships. The band has more of a direct Hard Rock style than alternative or pop from their other work. The band was very creative and into exploring all kinds of styles and genres. Archie stated, "The minute you stop exploring and growing you are just dead and empty" Started out as one album and developed into a double album.  The band has stated that this is their favorite album they have recorded so far in their catalog.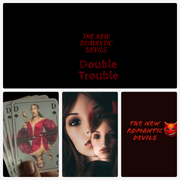 Double Trouble
Released
13 September 2021
Recorded
July 2021; Augsust 2021
Studio
Jamaker Studios ; Red ONE Studios

Halston, Texas

Genre
Rock, Hard Rock, Alternative Pop
Recording
Double Trouble was written and recorded from July 2021 through August 2021. Archie Monroe said that after they sat down to work on the left over from Panting a Perfect Picture with JT Dubach and Ed Anziotti the band was inspired to write a bunch of new material. The sessions ended up turning into a loose concept album and doubled in tracks as the writing sessions went on. The final mixed and tracks were done in late august and early September and once again Freddy Spencer came in to mix and produce. Peyton who was still going through extensive rehabilitation from the car wreck earlier in the year was unable to play bass or guitar. She did play synthesizer and keyboards on some of the tracks and added backing vocals. The Decision to make it a double album was made, and the album was released on September 13, 2021.
Music and lyrics
For the First time in the studio all members of the band including JT and Ed consulted and helped in the writing process with the music as well as the lyrics. However, the majority of lyric duties still fell with Archie and Rachel and Keith. The subject matter of all the songs deals with dark part of relationships including the music business and money, love ect.
Track Listing
1.Beyond where were living (4:18) 
2. Deserve Better (Hey Boy) (3:14) 
3. The Grind (Rock and Roll Rebel) (5:23) 
4. Thinking of you (5:00) 
5. Down by the Sea (4:12) 
6. Headbanger (Let's Ride) (5:01) 
7. The Beast within (5:13) 
8. A Good Day to Die (3:31) 
9. Sinner's Delight (3:39) 
10. I'm a Nightmare your no Different (5:15) 
11. A Thousand Times (5:31) 
12. Don't Stop (Take it to the Edge) (4:35) 
13. Emotional (5:57) 
14. What If (5:42) 
15. Wanna Grab Your Attention (3:27) 
16. Blood on the Dancefloor (4:14) 
17. Ain't Nobody Like You (4:35) 
18. Shy (2:24) 
19. Unbreakable (4:56) 
20. Venom in my Veins (6:22) 
21, Heal the World (4:18) 
22. New Shores Sunrise (5:51) 
23. Long Time (I Got you on my mind) (5:38)
24. Fade Away (3:17)
25. Distant Holiday (3:17) 
26. Together We Raise Hell (5:45) 
27. Bathing in Misery (2:00) E
Personnel
Archie Monroe-Lead Guitar all tracks, vocals track 4,10,14,17
Rachel Monroe- Piano, Guitars all tracks 2,5,13,16,18,20. 22, 24, 25 ,27
Peyton Reed-Backing vocals synth all tracks
JT Dubach- Bass all tracks vocals track 4.8.21
Ed Anziotti- Guitars all tracks, vocals track 7, 11, 17
Keith Hudson- Drums all tracks, vocals 1,3,6,9,12,15,17,19 ,23, 26
Produced and mastered by Freddy Spencer. 
Engineered and mixed by Atom