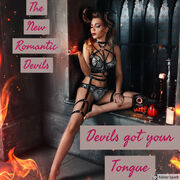 The Devil's Got Your Tongue is the 3rd album released by the pop rock band The New Romantic Devils. It is the First album to feature Rachel Monroe on vocals and guitar. It was released fourteen years after there last album. It is the album considered to definitively signal their patent sound and identity.
Studio album by The New Romantic Devils
Released
9 September 2020
Recorded
November-December 2019

"The Barn" -Fort Worth, Texas

Genre
Rock Pop Pop Rock Alternative Rock Hop
Label
Distro Kid
Producer
Freddy Spencer

Recording
Fall of 2019 the band went into their new home studio known as the Barn to start recording there first album with the new line up since Rachel Monroe had joined and Holly Ridge had left as the front woman of the band, The band had finally come up with the concept and idea of what they wanted the band to be. The album was recorded over September and October. They narrowed down to 12 tracks. The album was released in late 2020 after the pandemic set everything back and at the time Mike McCoy was no longer part of the band. The band asked Freddy Spencer who was now working as a producer in the Texas area to produce the album. The album has all the elements of pop, punk, alternative, hip hop, R & B, hard rock, with big themes and sweeping hook.
Music and lyrics

All music and lyrics were done by Keith, Archie, Mike, and Rachel
Track listing
1. Running straight to the edge (Far Away) [4:59]
2. Only Human (4:29)
3. Nobody's Home (Party at the end of the world) [3:45]
4. Tiger Tiger (4:41)
5.  You're Going Down (And I Like it) [4:12]
6. Start of a Good Day (3:42)
7. Can't Keep my Hands off of You (5:51)
8.Running Back 2 You (4:29)
9. Baby pull me closer (6:03)
10. Feels like Dying (5:51)
11.To Escape Death (In your Arms) [6:03]
12.Too Hot (Summer Nights) (5:37)
Personnel
Archie Monroe- Lead and Rhythm guitar all tracks
Mike McCoy- Lead and Rhythm guitar all tracks
Rachel Monroe- Rhythm guitar, keys, synths, piano all tracks. Lead vocals 1-4, and 6-9, 11 and 12
Peyton Reed- Bass, backing vocals all tracks
Keith Hudson- Drums all tracks, lead vocals track 5 and 10
Produced and engineered by Freddy Spencer