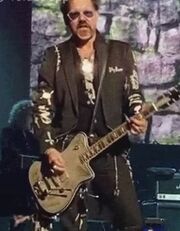 Lead Guitar The New Romantic Devils
Archie Monroe (born December 20, 1981) is the lead guitar player for The New Romantic Devils. Along with being the lead guitarist he is the leader for his band. He is the older brother to bandmates Peyton and Rachel.
Archie was born in Tulsa, Oklahoma but grew up in Oklahoma City area. He was already musically inclined at the age of 8, starting out on piano like his two sisters. By age 12, he knew drums, keyboards and bass guitar and by age 13, he taught himself guitar. At age 13, he started his first band Sugar Addict with drummer Keith Hudson. He later started a band with Keith and his sister Peyton 4pastmidnight.
4pastmidnight evolved into The New Romantic Devils and has been together since 1998. Archie has also released one solo record. Archie has stated that after the next tour he would like to work on another solo record. He has said he would like to play with as many of his friends as he can on the next record.
Personal life
[
]
Archie is the oldest of six siblings, three sisters and two brothers. His sisters are Deanna K Monroe, Peyton Reed Monroe Hudson, James Carey Monroe, Mark Alexander Monroe, and Rachel Molly Monroe.
Early relationships
[
]
Monroe met Deanna Irving in 1994 and started a relationship that would last up until 1996. He has often said she was the one true love of his life. Archie soon met Model and Artist Susan Holt and they dated off and on from 1997 to 1998, She tragically died in an automobile accident in late 1998 while they were on a break, It is said that her death has haunted him.
Family
[
]
Archie married model/actress Jennifer Hill in 1999. Their relationship was toxic from the start as well as Archie began a relationship with bandmate Holly Ridge soon after his marriage. Monroe has said about Jennifer that "living with her is like living with TNT and blow torch." They were divorced in 2001. Archie dated Holly on and off again until 2008. secretly at times to the public all the band was aware. Archie married Kathleen Capucci in 2003. They have two children together a son Christoph and a daughter Kathleen (Katy). They divorced in 2010 after years of turmoil and Archie's infidelity with Holly. Holly and Archie had ended their relationship in 2008 but the strain was still too much for the marriage to survive.
Spirituality and religion
[
]
Over the years, Monroe made numerous references to religion and to his evolving spirituality. Archie is a born again Christian and committed his life after years of infidelity and has stated that he turned his life over when he realized he was at rock bottom.
Philanthropy
[
]
Archie has been involved in philanthropic and charitable efforts for Cancer research as well as an advocate for the elderly and for hospice., as well as other humanitarian projects helping disadvantaged children and developing nations, ending poverty and hunger, promoting human rights, and providing education and health care to children affected by war.
His current girlfriend is Kaye Mallory.
Discography
[
]
The New Romantic Devils
What You Need
Solo Albums